ATF Facility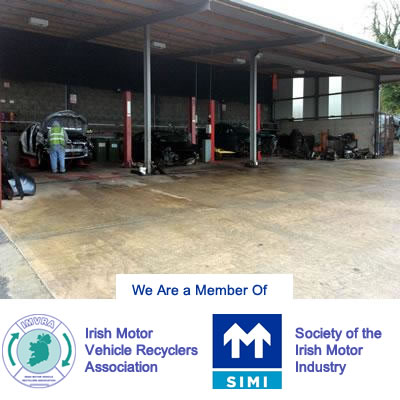 END OF LIFE VEHICLE TREATMENT
At Sragh Dismantlers, we operate a licensed treatment facility for End of Life Vehicles (ELV's).
We recover, de-pollute and dismantle end-of life vehicles including; those no longer suitable for road use, vehicles that have reached the end of their service life and vehicles damaged and not suitable for repair.
As a fully authorised vehicle treatment facility (ATF), we are fully committed to the sustainable development of our environment. All vehicles are treated and vehicles components and fluids disposed of, in a manner that ensures minimal adverse affect on the environment. As much as is possible, component materials are reused or recycled. At Sragh Dismantlers, we aim to re-use and recycle 95% of vehicle materials and components in line with current EU and Irish targets and environmental guidelines.
We are fully licensed by Monaghan County Council and the Environmental Protection Agency Ireland and therefore comply with all regulations concerning the collection, storage and treatment of end-of-life vehicles.
As an ATF, we accept all end-of-life vehicles. We will take care of all the necessary paperwork, including the issuing of a Certificate of Destruction (CoD), which for the owner provides reassurance that a vehicle is being de-polluted and dismantled in an environmentally safe manner, but also that the relevant authorities have been notified of the vehicle's destruction. We will notify the Vehicle Registration Unit of the Department of the Environment, Heritage and Local Government and the destruction of your vehicle will be noted in the records of the National Vehicle File.
RECYCLE YOUR END OF LIFE VEHICLE
Get a quote for your end of life vehicle by completing the form below. Alternatively send us details and a picture of your vehicle by email sraghdismantlers@gmail.com, facebook or whatapp 0861041222 or 0878273365. We'll get back to you with a best price no-obligation quote for your vehicle.
REMINDER:
The only safe and legal way to dispose of an end of life vehicle is through an authorised treatment facility such as Sragh Dismantlers.
If you do not use an authorised treatment facility to dispose of an end of life vehicle and an official certificate of destruction is not issued, as vehicle owner, in addition to the above fine, you may be held liable for motor tax payments and arrears, traffic fines and traffic offence penalties if the vehicle is put back on the road. The identity of your vehicle may also be used in fraudulent activity, for which you could be held liable.
It is an offence to hand over an End of Life vehicle to an unauthorised person or facility. A person guilty of this offence may be liable to a fine of up to €3000 or six months in prison.
If you have an End of Life vehicle to be disposed of, contact us today by filling in the form below. If your vehicle has been taxed you may also be able to get a refund Click here to download the RF120 Form